Puff-N-Fluff Pet Dryer
Product Code:
SKUARS99615
Availability:
In Stock
FEATURES
This device helps make your dog drying duties quick and painless for both you and your dog.

Makes dog drying fast and easy.Quickly dry your dog after a bath and helps to relieve the fearfulness of the blow dryer.

Removing icicles from your dog's fur in the winter; drying your dog after they jumped into a pool; helping to relieve the fearfulness of a blow dryer.

Reduces wet dog odor, dries your dog after a rainy day walk and warms your dog.

Simply place the Pet Dog Dryer on your dog and attach to virtually any blow dryer to let warm air circulate around your dog.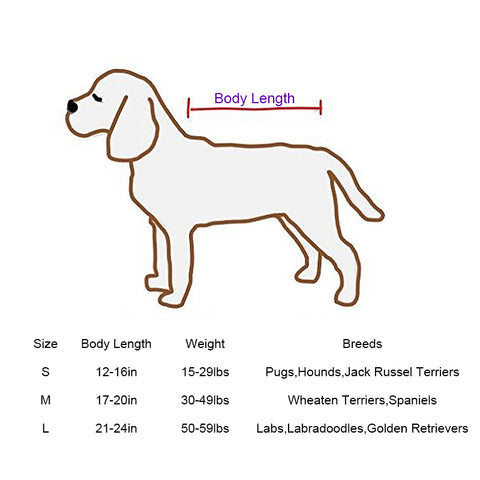 STEPS
Wash and towel dry dog, removing all excess water from your pet.
Lay the Puff-N-Fluff flat on the floor with the words "Head" and "Tail" facing up.
Put front paws into the leg holes marked "Head" and back paws into leg holes marked "Tail". It may be easier to put your hand up through the hole and pull the paw through.
Bring both sides of Velcro together and slide fingers along Velcro to fasten.
Lightly tighten drawstrings around neck and tail. Do not over tighten, air should vent through openings.
Attach virtually any blow dryer to flex-tube.
Turn blow dryer on Warm or Low heat and the air speed to high. The Puff-N-Fluff will puff out. Air should vent through leg openings,neck and tail.
After a few minutes, place hand in the Puff-N-Fluff through the neck or tail opening to check temperature. This is also a great way to see if your dog is dry.
Turn air heat to low, if you feel it is getting too hot inside the Puff-N-Fluff.
Dry times will vary depending on the size of your dog, the length of their coat and the thickness of their fur/hair.
SPECIFICATIONS
Material: polyester

Body Length: S (12-16 inches); M (17-20 inches); L (21-24 inches)

Color: Blue

Package: 1 * Pet Bathing Dryer
NOTES
Please allow slight measurement deviations due to manual measurement.
Due to the different monitor and light effect, the actual color of the item might be slightly different from the color showed in the pictures.
Tags: pet care